Field service management is the art and practice of optimising work in the field.
While the very definition of "the field" has evolved to encapsulate a huge variety of roles, it still typically refers to technical servicing, maintenance and repair. Businesses that run and manage maintenance and servicing operations in the field require effective, integrated tools to escape clunky manual processes.
Field service management software answers the many challenges associated with planning, managing and organising field technicians.
The result? Accurate, efficient and cost-effective field servicing that benefits all parties.
Here's everything you need to know about it, plus the 10 best field service management software in 2023.
What is field service management software?
Field service management software (FSMS) helps businesses plan, manage and optimise the delivery of services in the field.
Effective field service management depends on carefully balancing numerous tasks and processes, from directing technicians to where they need to be and ensuring they're equipped with the right tools and parts for the job.
From planning and scheduling to procurement and compliance, FSMS streamlines the end-to-end field service process to cut costs and drive efficiency.
The need for field management software
Picture the scene: it's 6 o'clock on a Friday, and one of your client's critical assets breaks down.
You don't have immediate access to maintenance history and don't know if the right parts are in stock to repair the problem. You don't even know if someone with the necessary expertise is available for dispatch.
That's tough, but if you're armed with FSMS, or even better, an intelligent maintenance management platform (or IMMP — more on that shortly), then fear not — swift resolution is but a few clicks away.
You'll be able to communicate promptly with the client, locate relevant maintenance/repair records, find a qualified technician, check stock and tool requirements, implement safety and compliance checklists, dispatch the technician, track their progress, and automatically bill the client if necessary.
It's also worth highlighting that FSMS supports proactive maintenance by automating cyclical services and integrating software with IoT sensors for ongoing condition monitoring.
Once we scale up these challenging situations to hundreds or even thousands of field service tasks, you can see why end-to-end integrated software is not optional. Instead, businesses need a solution for centralising tasks into a singular, seamless workflow. FSMS is that solution.
💡 Next-generation platforms like IMMPs enable businesses to build automated workflows that benefit both themselves and their clients, slashing costs and unlocking competitive advantages.
Core features of field service management software
Field service management software is not all built the same. The best options nail the basics while offering customisable workflows that cater to even the most complex use cases, whether building management, facility management or something else entirely.
Here are some fundamental FSMS features to look out for:
Dashboards: Data centralisation and visualisation are essential for field management software, providing businesses with complete visibility of work orders, scheduled maintenance, resources, stock, costs and more. Ideally, businesses can customise dashboards to requirements.
Maps and geolocation: Mapping tools track work orders and technicians. Identify buildings, assets and team members in real time.
Team management and prioritisation: Team and project management tools ensure the right teams with the right tools and expertise are dispatched to the right job at the right time.
Communication: Centralise communications for the benefit of managers, technicians and end-users, whether a security team, receptionist, or on-site technician. Use in-app messaging and notifications to exchange key information.
Procurement and stock management: Utilise field service data to automate procurement and stock management to ensure parts and products are ordered promptly. Automatically restock parts that are running low.
Contract and service level agreement (SLA) management: Centralise contracts and SLAs to ensure technicians have the information they need to fulfil service agreements, whether checking a lift or replacing a fire extinguisher.
Compliance: Monitor SLAs and protect team members with legal and safety compliance checklists.
Analytics: Collect and analyse data from all the above processes to unlock actionable insights into KPIs such as dispatch time, mean time between failures (MTBF) and mean time to repair (MTTR). Use that data to save time, cut costs and boost service efficiency.
Best field service management software in 2023
Infraspeak
GSMtasks
Odoo
Pandell Jobutrax
Synchroteam
GoAudits
Dynamics 365
Freshdesk
Housecall Pro
Autodesk Construction Cloud
The reviews below are sourced from Capterra.com.
Infraspeak
Infraspeak helps field service managers and teams plan and optimise effective maintenance, organise assets and inventory and ensure compliance — all whilst providing intelligent insights that impact your operation. This Intelligent Maintenance Management Platform helps you reduce your MTTR by up to 83%, lower unpredictable costs by up to 3.2x and improve your SLA completion rate by up to 91%. Infraspeak's innovative capabilities also allow you to save time by automating 60%+ of all your admin work.
Using Infraspeak's field service management solution, you can:
create case-by-case preventive maintenance plans based on the actual utilisation of your assets
plan recurring tasks, assign sets of tasks to specific planned jobs and automate task assignments
access real-time KPIs and customisable reports for your field maintenance operations
connect to a world of 100+ integrations, including IoT sensors and Building Management Systems (BMS)
automatically identify spikes and variations in utility spending to reduce costs, optimise energy consumption and make your operations more sustainable
centralise your order and supplier history, automatically update inventories and optimise billing and budgeting
request, organise and compare quotes from different suppliers
improve decision-making in field service management through intelligence & insights
With its user-friendly interface and mobile functionality, Infraspeak enhances efficiency, productivity, and asset uptime, making it an effective solution for all organisations looking to optimise their field service operations.
What users love about Infraspeak
"We were using a different system that was supported by excel spreadsheets, delivering around 200 work orders a week. Now we're delivering 2000 — and that's just on reactive." — Mike Robinson, Director of Business Development at Penguin FM
A 15-minute chat is all it takes.
Learn how Infraspeak can help with intelligent maintenance management.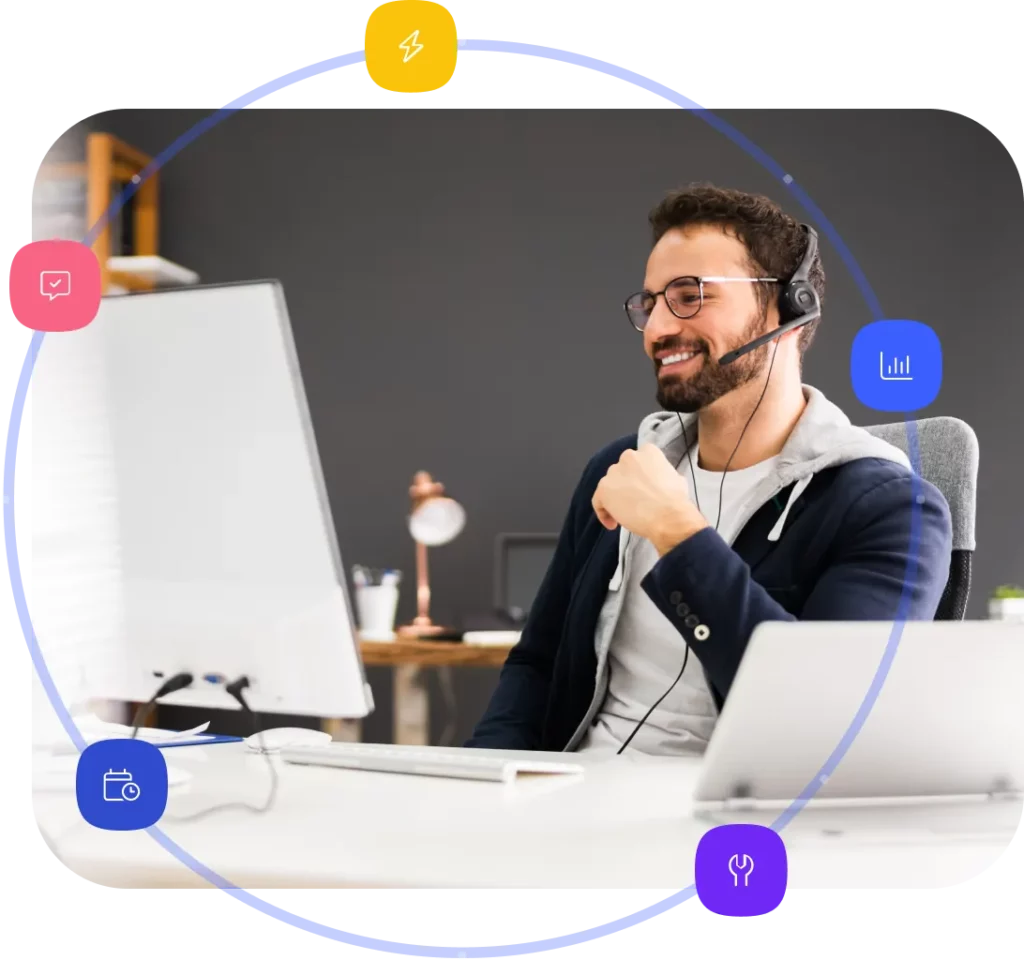 GSMtasks
GSMtasks provides modern delivery management software that simplifies the management and analysis of deliveries and tasks for couriers and technicians. This solution includes an intuitive app for drivers, a real-time web dashboard for dispatchers, and automatic SMS notifications and driver tracking for customers.
Odoo
Odoo is a fully integrated and customisable open-source software, offering a wide range of user-friendly business applications. From CRM and Sales to Project Management, Manufacturing, Inventory, and Accounting, Odoo's intuitive database caters to various business needs.
Pandell Jobutrax
Pandell Jobutrax is a web-based field ticket software designed for creating, approving, and submitting field tickets, generating timesheets, and tracking maintenance activities. It automates timesheet creation from field tickets, manages safety certifications, tracks equipment and inventory, auto-fills purchase orders on tickets, captures digital forms, and facilitates scheduling and dispatching.
Synchroteam
Synchroteam offers field service management software to efficiently manage mobile workforces, simplify business processes, and optimise costs. With features like tracking, scheduling, dispatching, calendar management, and maps, Synchroteam provides a comprehensive solution to FSM.
📝 You may also like: 10 best building maintenance software in 2023
GoAudits
GoAudits is a smart mobile app and complete solution for field data collection and audits. Plan and schedule checks, conduct mobile audits on your preferred device and assign corrective tasks instantly. After inspections, generate insightful reports and automatically email them to the relevant stakeholders for real-time information.
Dynamics 365
Dynamics 365 is an integrated business management solution that automates financial, customer relationship, and supply chain processes.
Freshdesk
Freshdesk is an easy-to-use customer service software that helps businesses deliver exceptional customer experiences.
Housecall Pro
Housecall Pro is a business solution for home service professionals, offering streamlined scheduling, dispatching, payment processing, and more.
Autodesk Construction Cloud
Autodesk Construction Cloud provides a mobile-first, user-friendly design that eliminates information silos and ensures that crews have access to updated documents.
What can field service management software do for your business?
Agility, efficiency, robustness…business leaders hear these buzzwords all the time, but implementing solutions that deliver them is challenging.
For example, Forbes showed that some 80% of workers are now 'deskless', but around 60% are unhappy with the tech they use and deem it inefficient. Among field service technicians specifically, some 45% report dissatisfaction with their current tools.
Here's what field service management will do for your business:
Streamline field service operations
Gone are the days of clunky scheduling processes and manual data entry. Well, you might think so – but Verizon found a remarkable 25% of businesses still rely on whiteboards and manual processes.
At its most basic, field service management software streamlines field service scheduling, including organising cyclical services and emergency repairs.
Customers can submit requests through the software, negating the need for secondary communication systems. This can reduce maintenance calls by up to 75%.
Reduce human error
By centralising data, FSMS effectively reduces human error, providing a comprehensive overview of the service lifecycle. Work order management helps service teams understand a job's requirements, including the asset in question, parts, tools, compliance information and notes.
Every detail of every request, quote, contract, repair, visit, date, time, location, and individuals involved are captured, providing end-to-end visibility of tasks and processes.
Boost efficiency
Field service software maximises efficiency, ensuring assets, stock, staff, and resources are managed centrally.
Team members are connected to a single source of truth, allowing them to quickly and easily communicate essential information. Verizon determined that FSMS produced a positive ROI in just 6 months, with an average 11% decrease in accident costs, a 10% decrease in labour costs and an 8% decrease in fuel costs.
Intelligent automation
By leveraging Internet of Things (IoT) data, field service solutions can help businesses proactively detect problems and orchestrate proactive and preventive maintenance.
By integrating condition monitoring data, businesses can identify and diagnose issues and resolve them before they develop into serious faults. According to McKinsey, condition-based predictive maintenance can cut costs by some 30%.
Actionable insights
Field service software joins a constellation of efficiency-enabling technologies that streamline business operations via process optimisation and creating analysable data points.
IMMPs: A new generation of FSMS
IMMPs build on the core features of FSMS to add advanced integrations for proactive maintenance, artificial intelligence (AI) for automated data analysis and extensible, customisable features that suit complex workflows.
The result? A platform that can network people, buildings, assets, software and IoT hardware into a singular source of truth for seamless management and optimisation.
Next-gen businesses demand next-gen FSMS, which is why Infraspeak developed our advanced end-to-end platform for all-in-one maintenance management.
Learn how Infraspeak can help you by scheduling a demo today.