A building maintenance software is a specialised software solution designed to streamline and enhance the management of maintenance activities in buildings and facilities. With this kind of sotware, it is possible to organise, schedule and track various maintenance tasks and workflows associated with the upkeep of a building.
The goal of building maintenance itself is to ensure the comfort of all users within the facility, by preserving the building's value, enhancing its condition, safeguarding safety and reliability and preventing excessive wear and tear on equipment.
This encompasses ongoing care through routine maintenance as well as preventive maintenance measures to protect the equipment and structures. Eventually, when maintaining the same level of comfort becomes impractical, building refurbishments come into play.
Building maintenance is necessary in various locations, including public buildings, shopping centres, offices, hotels, nursing homes, hospitals, and condominiums.
Get to know the 10 best building maintence software in 2023 and what a solution like this can do for the productivity and cost-reduction of your maintenance operations.
Key features of building maintenance software
Work order management
This software allows users to create, assign, and track work orders for maintenance tasks, enabling efficient coordination and communication between maintenance staff, supervisors, and other stakeholders.
Preventive maintenance
It enables the establishment and management of preventive maintenance schedules, ensuring that routine inspections, servicing, and repairs are performed proactively to prevent equipment failures and minimise downtime.
Asset management
This software helps in managing and tracking building assets, such as equipment, systems, and infrastructure components, by recording important information like specifications, maintenance history, warranties, and service contracts.
Inventory management
It facilitates the management of spare parts, supplies, and materials required for maintenance activities, allowing for efficient inventory tracking, reordering, and stock control.
Vendor management
Building maintenance software may include features to manage vendor relationships, such as maintaining vendor databases, tracking service agreements, and evaluating vendor performance.
Reporting and analytics
The software generates comprehensive reports and analytics related to maintenance activities, including work order status, asset performance, maintenance costs, and other key performance indicators (KPIs). This information helps in assessing maintenance efficiency, identifying trends, and making data-driven decisions.
Mobile capabilities
Many building maintenance software solutions offer mobile applications or responsive interfaces, enabling maintenance technicians to access work orders, update task statuses, and capture relevant data directly from their mobile devices, enhancing productivity and real-time collaboration.
Integration with other systems
The software can integrate with other systems such as facility management, asset tracking, or enterprise resource planning (ERP) systems, allowing for seamless data sharing and improved operational efficiency.
Best building maintenance software in 2023
Infraspeak
eMaint CMMS
MaintainX
AVUX
EZOffice Inventory
UpKeep
Jobber
Fracttal
Fiix
FMX
The reviews below are sourced from Capterra.com.
Infraspeak
Infraspeak is a comprehensive solution designed to assist building managers in efficiently managing maintenance operations. More than 180,00 buildings are now using Infraspeak, that offers a centralised platform to simplify building maintenance tasks, consolidate asset information, facilitate procurement processes, and ensure compliance with building regulations. Additionally, it provides valuable, intelligent insights that have a direct impact on your operations.
Using an Intelligent Maintenance Management Platform as your buiding maintenance software, you can:
reduce Mean Time to Repair (MTTR) by up to 83%, leading to faster issue resolution and minimised downtime
decrease unpredictable costs by up to 3.2 times, allowing for better budget control and financial planning
improve Service Level Agreements (SLA) completion rate by up to 91%, ensuring timely and fully satisfactory service delivery
reduce time and error through the automation of over 60% of administrative tasks, enabling you to focus on more critical responsibilities
create personalised preventive maintenance plans based on actual asset utilisation, ensuring targeted and efficient building maintenance strategies
plan recurring tasks and assign specific task sets to relevant jobs
automate task assignments for a better workflow management
access real-time KPIs for your maintenance operations
generate customisable reports to gain insights and monitor performance effectively
integrate with over 100 systems, including IoT sensors and Building Management Systems (BMS), for comprehensive data integration and analysis
automatically identify spikes and variations in utility spending
centralise order and supplier history for better tracking and transparency
automate inventory updates to ensure accurate stock management
optimise billing and budgeting processes for improved financial control
request, organise, and compare quotes from various suppliers to make informed decisions
communicate with technicians and suppliers through the same platform
Infraspeak empowers building managers with advanced capabilities to optimise preventive maintenance, reduce costs, and make real data-driven decisions for outstanding efficiency and performance. It adds predictability to your preventive maintenance through optimal resource management, allowing you to stay ahead and protect your building.
What users love about Infraspeak
"Infraspeak has made life a lot easier. It made everything under one umbrella, so we can manage, build reports, see where we are spending money, and where we can invest in one single platform." – Jordan Tesfamichael, EL&N London
A 15-minute chat is all it takes.
Learn how Infraspeak can help with intelligent maintenance management.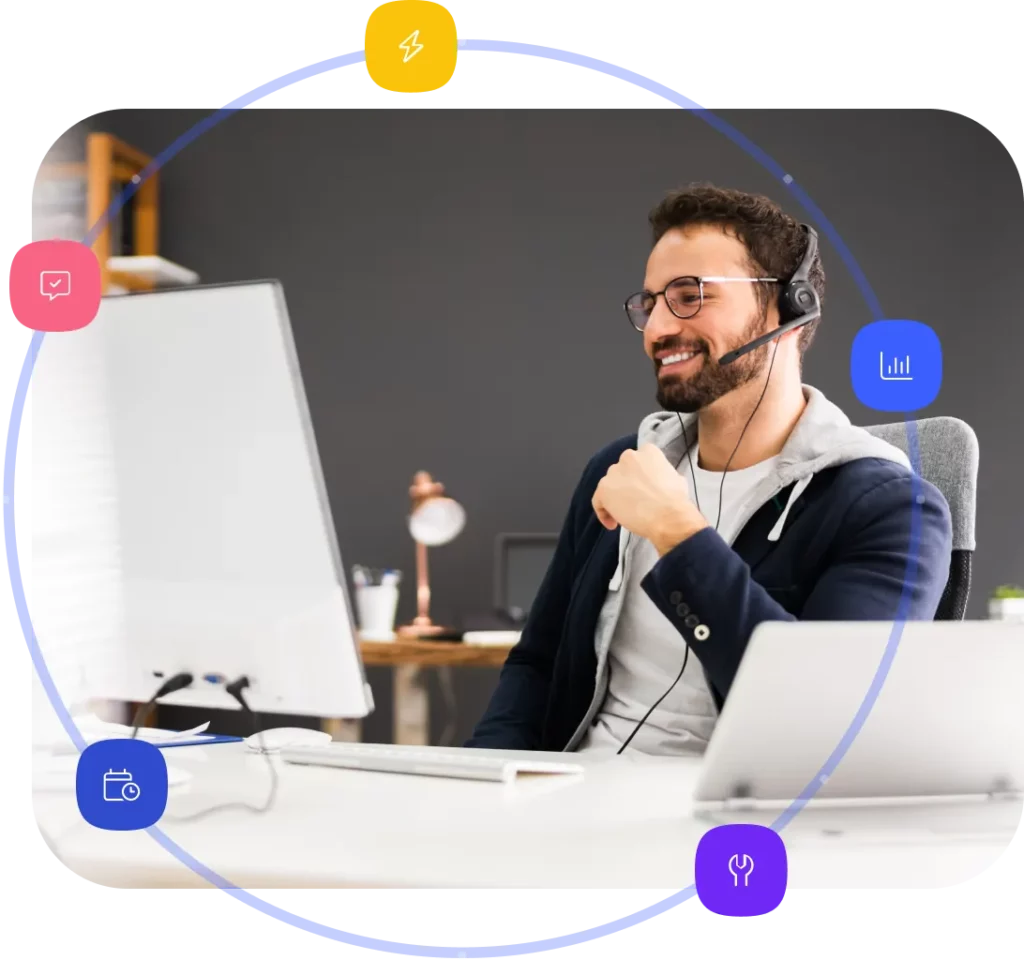 eMaint CMMS
eMaint CMMS is a cloud-based software solution that offers customisable features and allows you to optimise workflows, automate preventive maintenance tasks, and ensure spare parts availability for upcoming work orders. Generate regulatory compliance reports and gain a comprehensive view of work order status and backlog.
MaintainX
It operates as a cloud-based tool, incorporating IoT capabilities to support maintenance, safety, and operational activities on equipment and facilities. With MaintainX, businesses can track reactive and preventive maintenance tasks, manage daily operations like safety inspections, quality checks, and operating checklists.
AVUX
A property maintenance work management system offering dedicated features for efficient real estate data management, task management, invoice transfers, worktime tracking, GPS positioning, and more. AVUX provides mobile solutions for tasks such as working time management.
EZOfficeInventory
Comprehensive building maintenance software that enables efficient tracking of maintenance costs, scheduling of services, vendor management, and customisable alerts. It offers detailed maintenance history and actionable service reports.
📝 You may also like: 10 best maintenance management software
UpKeep
UpKeep is a mobile-first building maintenance software, made for streamlining work orders, facility management, and asset management.
Jobber
With Jobber, you can efficiently organise your business, win more jobs, and accelerate payment collection.
Fracttal
Cloud-based maintenance and asset management software that enables Asset Performance Management and continuous improvement.
Fiix
Fiix is a cloud-based CMMS software that helps plan, track, and optimise maintenance activities to boost efficiency and improve asset health.
FMX
FMX's building maintenance software simplifies processes, increases asset productivity, and converts actionable insights into tangible results. Discover how FMX can enhance your building maintenance operations.
How to take building maintenance to the next level
Choose the right building maintenance software
As we've seen, to enhance the efficiency of building maintenance, using a building maintenance software is crucial. Opting for an Intelligent Maintenance Management Platform can further optimise the process.
Streamline fault reporting
A building maintenance software enables caretakers and cleaning staff to easily report faults. This allows technicians to swiftly address and resolve issues.
Implement checklists for services
Create standardised checklists for each service to ensure consistent processes and expedite the replication of work orders.
Establish a comprehensive database
Set up a centralised database within the software to record the maintenance plan, assign tasks, and track inventory. Technicians will be able, then, to access necessary documents and follow standard procedures for each asset.
Go for a real-time monitoring
Use intelligent software to monitor building operations in real time and to get insights into areas functioning normally, as well as identifying off-limits or problematic areas. Such updates allow for prompt customer service adjustments or redirection of users to alternative building areas.