The objective of building maintenance is to keep the building comfortable for all users. This involves constant care – routine maintenance – but also preventive maintenance to preserve the equipment and structures. Then, when it is no longer possible to provide the same level of comfort, it gives way to building refurbishments.
Where to apply building maintenance
Public buildings
Shopping centres
Office buildings
Hotels, nursing homes, hospitals, condominiums
Why is building maintenance needed?
It keeps the building's value
It improves the building's condition
It preserves safety and reliability
It avoids excessive wear and tear on equipment
Who's responsible for building maintenance?
As popular wisdom says, "it takes a village". For building maintenance to be successful, you need to organise a maintenance department in which all functions are well-defined. Furthermore, it is important that all the building's users make an effort to keep the building in the best condition possible.
Maintenance managers
Maintenance managers are responsible for the maintenance plan. They need to plan, assign tasks, manage the technical team, and decide how to react to a breakdown. In the case of companies that outsource various maintenance services, they also monitor whether the contract is being fulfilled according to the terms established.
Technicians
Maintenance technicians perform regular inspections, preventive maintenance tasks, and respond to breakdowns (reactive maintenance). They can be multi-skilled or specialise in one type of maintenance, such as electrical maintenance, HVAC maintenance, plumbing, etc.
Caretakers, Cleaning & Housekeeping
The caretakers supervise and maintain the smooth running of the building's common areas. In addition to the caretakers, the cleaning and housekeeping teams are responsible for much of the care that keeps the building clean and pleasant.
What types of maintenance are part of building maintenance?
Routine Maintenance
Routine maintenance encompasses the daily, weekly, and periodic tasks that keep the building in optimal condition for users, such as cleaning, waste management, or pest control. Although the focus is on this type of 'soft facility management', it also includes visual inspections or minor repairs (e.g. replacing blown-out light bulbs). Building caretakers are usually responsible for this.
Preventive Maintenance
Preventive maintenance of buildings aims to keep the facility comfortable and safe for users. It is often based on Operations and Maintenance Manuals.
Preventive maintenance in buildings includes several different services. First, there is the maintenance of electrical equipment, gas installations, HVAC, lifts, escalators, and other assets used daily by those who use the building. Then, there is the maintenance of the structure and the exterior area, which includes the building's insulation, roofing and security systems.
So, the key to excellent building maintenance is to plan and fit all the jobs into the same schedule. Fortunately, much of the preventive maintenance plan consists of work orders that are repeated with a certain periodicity, hence it is possible to automate workflows with the help of an intelligent maintenance management platform.
Alternatively, preventive maintenance can be replaced by condition-based maintenance or predictive maintenance.
Reactive Maintenance
Building maintenance is no exception: reactive maintenance should be used as a last resort. Ideally, building equipment should never be out of commission. Still, mistakes do happen: here's how you can reduce the MTTR.
Rehabilitation and Renovation Works
In recent years, the European Union has made an effort to increase the energy efficiency of older buildings, including schools, office buildings, and other public buildings. Although proper maintenance helps to reduce the buildings' consumption, in most cases extensive refurbishment works are necessary.
After achieving A+ energy certification or zero carbon emissions, buildings are not expected to need intensive refurbishment again in the short to medium term. However, the maintenance and operation manuals should be updated to take into account the maintenance of new infrastructure and the expected lifetime of materials used in the envelope system.
In the case of historic buildings, it is not always possible to clean or restore sculptures, tiles, paintings, or woodwork to its original state due to the weakness of the materials. In such cases, managers should consider using replicas, which facilitate routine maintenance without spoiling the architecture of the building.
10 FM and maintenance experts
share their thoughts on what
2023 will bring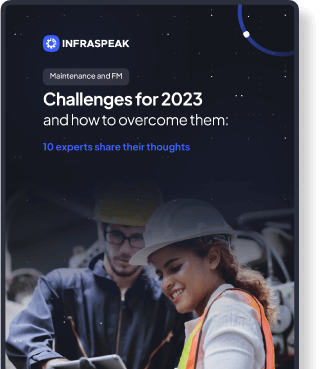 How to make building maintenance more efficient?
The best way to make building maintenance more efficient is to use building maintenance software. However, as we said above, you can get even more out of the software if you choose an intelligent maintenance platform.
Expedite fault reporting
Enable caretakers and cleaning staff to easily report faults through the software. This way, technicians resolve the problem much faster.
Use checklists for each service
Create checklists for each service, so you can replicate work orders quickly and ensure uniform processes.
Create a database
Set a database where you can record the maintenance plan, assign tasks, and keep track of inventory. From the technicians' point of view, work organised in such a fashion facilitates consultation of documents and standard procedures for each asset.
The intelligent maintenance management platform takes these features even further. The intelligent software allows you to schedule tasks, receive notifications when a deadline approaches, and assign tasks automatically, which streamlines operations on a day-to-day basis.
Monitor operations in real time
Intelligent software makes it possible to monitor operations in real time, so you know which parts of the building are working normally and which are off-limits. These updates make it possible to adapt customer service or redirect users to other areas of the building.
On this subject, we want to recap a pleasant conversation with Claudio Celino, from the Brazilian company Sinergia, a specialist in building maintenance with over 20 years of experience in the field. The talk is still available on our Youtube channel, if you happen to speak Portuguese.
What is the main challenge in building maintenance?
In facility management, outsourcing is the norm. McKinsey estimates that outsourcing already accounts for more than half of the FM market and the trend is for companies to hand over all FM to a single partner. But, for the time being, most still deal with multiple providers. For instance, one company for daily cleaning, another for façade cleaning, another for security systems, another for escalator maintenance, and so on.
As it is difficult for (internal) managers to control everything that each provider does, "they become a fee-payer", says Cláudio Celino. And that is exactly the first big challenge of building maintenance: the lack of control. But what are the causes of this lack of control? And what are its ramifications? In his experience, the lack of control stems from three factors:
Lack of personnel
The first contributing factor to the lack of control is a lack of personnel. Facility management departments are often understaffed. The machinery maintenance serving the core business is a priority, but everything else is seen as a "cost". Therefore, companies lack people focusing on facility management or on collecting, analysing, and auditing useful data for building maintenance.
Lack of systems
The second factor is the lack of systems. Even if each provider uses software and has a good internal organisation, there is rarely a system that centralises all information. Therefore, it is very difficult for the manager to keep track of what each provider is doing, obtain up-to-date information, have an insight into pending work, and cross-reference data.
Lack of processes
Lastly, processes fail. That is, even when there is some awareness of FM, and there is a system to enter data into, there is no well-defined process. For example, there may not be well-defined information collection points. Or the team does not always record the opening and closing of work orders. The result is unreliable information that is almost always out of date.
Regarding the last two factors, McKinsey's report recalls that facility management lags behind other sectors, including equipment maintenance, both in digital maturity and technology penetration. While there is no shortage of options, there is a lack of digital skills, and it is not a priority for management, who focus on cost reduction.
Smart platforms, capable of integrating with a plethora of tools, are one of the most disruptive options for the sector. By bringing all the information together, they allow you to regain control of daily operations. But that's not all. There are two other major challenges in building maintenance, which influence and are influenced by this lack of control: lack of time and lack of appreciation. Both can significantly improve with the help of technology.
Is Infraspeak a building maintenance software? 
Yes, Infraspeak acts as a building maintenance software that helps facility and maintenance managers streamline their maintenance operations. It is designed to simplify the maintenance management process by providing features such as asset management, preventive maintenance, work order management, inventory management, and reporting. Infraspeak can be used to manage maintenance activities for various types of buildings, including commercial, medical, industrial, and residential properties:
Asset management: Infraspeak allows you to create an inventory of all the equipment and assets in your building, including HVAC systems, electrical systems, plumbing systems, elevators, and more. You can track the location, status, and maintenance history of each asset, and schedule preventive maintenance tasks to ensure they are in good working order.
Preventive maintenance: With Infraspeak, you can create preventive maintenance schedules for your building's assets and equipment. This can help you reduce breakdowns and prolong the lifespan of your assets, while also reducing maintenance costs.
Work order management: Infraspeak allows you to create work orders for maintenance requests, track the status of each work order, and assign tasks to maintenance technicians. You can also prioritize work orders based on their urgency, set deadlines, and receive notifications when work orders are completed.
Inventory management: Infraspeak allows you to manage your inventory of maintenance supplies and spare parts, track usage and reorder levels, and automatically generate purchase orders when supplies run low.
Reporting: Infraspeak provides a range of reports that can help you track maintenance costs, identify trends, and make data-driven decisions about your building maintenance operations.
A vicious cycle: why is facility management not valued?
Infrastructure management, monitoring work sites and daily operations require time, attention, and dedication. But, as we have already said, most companies do not prioritise FM. Often, there is only one person overseeing all maintenance. This means that you must focus on the essential services, and everything else falls into the background.
Obviously, the constant lack of time leads to a lack of control. On the other hand, as there is never enough time to implement control systems or processes, FM is even more time-consuming than it should be. Here we already start to enter a loop of inefficiency and disorganisation, which brings its own consequences.
Since there is no time to do all the tasks nor control processes, it becomes impossible to demonstrate results. "What cannot be measured cannot be managed", as we have so often heard. Since you can't demonstrate results, or prove that FM influences the company's bottom line, management continues to neglect it and insist on cost-cutting. It is this cycle that leads to the "cost-cutting" and "lack of prioritisation" pointed out in McKinsey's report.
How to argue for investments in facility management technology
Ironically, cost-cutting may be costing them dearly. With an appropriate FM tool, the manager can control the monthly cost of maintenance and the expenses with reactive maintenance, insert information about what he invested, the return he obtained, and even the assets' depreciation. Over time, he can get an idea of the useful life of each piece of equipment and predict whether it will need to be replaced or serviced.
Put another way: systematic data collection brings predictability. As Cláudio Celino explains, "with that predictability, I already know when I have to replace that piece of equipment. I can plan maintenance much better and reduce the number of reactive maintenances. But always keeping the same number of preventive maintenances".
For the customer, it's also much better. "You have to demonstrate that the maintenance was performed — when, by whom, and for how long — and that it was performed according to the maintenance plan". This makes it much easier to demonstrate the service provider's work and highlight the FM's role in increasing the building's value and enhancing the user experience. The latter is one of the main trends in Industry 5.0, which is looking more humanised.
"We need a synergy between systems, people, and processes", he concludes. Having said that, there is no shortage of reasons to embark on a digital transformation and reverse the current scenario. It's time for building maintenance to stop being an inglorious battle!