Facility management lies at the intersection of buildings, assets, and the human teams that run and maintain them.
Maximising a facility's uptime and streamlining operations reduces costs and improves KPIs. So, it's perhaps unsurprising that the number of facility managers increases by around 5% per year to meet the surge in demand for smarter and more efficient facilities.
However, with so many moving parts, keeping track of everything and ensuring teams are operating at their full potential can be challenging.
Fortunately, facility management software (FMS) offers a solution.
By centralising processes, facility managers can optimise their processes and simplify reporting, making it easier to get things done.
This article covers facility management software, the 10 best facility management software and its many benefits and uses.
What is facility management software?
Facility management software is designed to help facility managers and maintenance teams manage their day-to-day operations.
In a nutshell, facility management involves managing buildings, their assets and the people responsible for operation, maintenance and upkeep.
Some fundamental processes include tracking equipment maintenance schedules, managing work orders, and generating reports.
The uses and benefits of facility management software
So, how does facility management software improve manual processes?
Here are the core benefits:
Improved maintenance management: In the era of Maintenance 5.0, tracking and managing maintenance requests, scheduling preventive maintenance, and monitoring equipment performance are of utmost importance. Facilities management software allows managers to prioritise maintenance tasks, set up automated workflows, and allocate resources effectively.
Better asset management: Assets are the cogs and gears of the facility. Effective asset management involves tracking their location, status, and maintenance history with asset management software.
Increased efficiency: Efficiency is the buzzword of the century. Use facilities management solutions to automate routine tasks, such as scheduling and tracking maintenance activities, generating work orders, and managing inventory. Real-time data enables managers to make informed decisions and promptly respond to issues.
Enhanced safety and compliance: Facilities management functions help businesses stay compliant with health and safety regulations. Track safety inspections and audits, raise alerts to team members and log potential hazards and risks.
Improved space utilisation: Tracking space usage and occupancy enables managers to optimise the use of space and improve the overall work environment.
Better vendor management: Enhanced vendor management enables businesses to manage vendor contracts, track SLAs, and monitor vendor performance. Unlock competitive advantages and forge stronger relationships with clients and customers.
Enhanced reporting and analytics: Facilities management software provides real-time data and analytics, allowing businesses to make informed decisions and discover competitive insights.
Best facility management software in 2023
Infraspeak
Seating Allocation Solution
Valuekeep
POC System
Facile
eMaint CMMS
MaintainX
DaySmart Recreation
Tribeloo
Wayleadr
The reviews below are sourced from Capterra.com.
Infraspeak
Infraspeak is an intelligent maintrenance management solution designed to streamline facility management operations. It offers features such as centralised asset management, procurement process management, and ensuring compliance while providing valuable insights for your operations.
Using Infraspeak's facility management solution, you can:
reduce Mean Time to Repair (MTTR) by up to 83%
minimise unpredictable costs by up to 3.2 times
improve SLA completion rates by up to 91%
automate over 60% of administrative tasks
create case-by-case preventive maintenance plans based on the actual utilisation of your assets
plan recurring tasks, assign sets of tasks to specific planned jobs and automate task assignments
access real-time KPIs and customisable reports for your maintenance operations
connect to a world of 100+ integrations, including IoT sensors and Building Management Systems (BMS)
automatically identify spikes and variations in utility spending to reduce costs, optimise energy consumption and make your operations more sustainable
centralise your order and supplier history, automatically update inventories and optimise billing and budgeting
request, organise and compare quotes from different suppliers
improve decision-making through intelligence & insights
An IMMP is far more adaptable and responsive to changing operational needs compared to ageing CMMS. Moreover, you can use it to build your own optimised solutions – you're not locked in to a clunky interface and bloated features. Harness your data to cut costs and boost facility performance — your clients and customers will thank you for it!
What users love about Infraspeak
"Infraspeak, being cloud-based, means I can access anywhere as long as I have an internet connection. This is invaluable to my team as they can communicate the need for resources through recorded pictures on the app, ensuring good quality of work from the team as they report and upload pictures of completed failures and tasks, giving me a wealth of remote visibility for my team." — Mike Kelley, Maintenance Manager at Sundeala
A 10-minute chat is all it takes.
Learn how Infraspeak can help with intelligent maintenance management.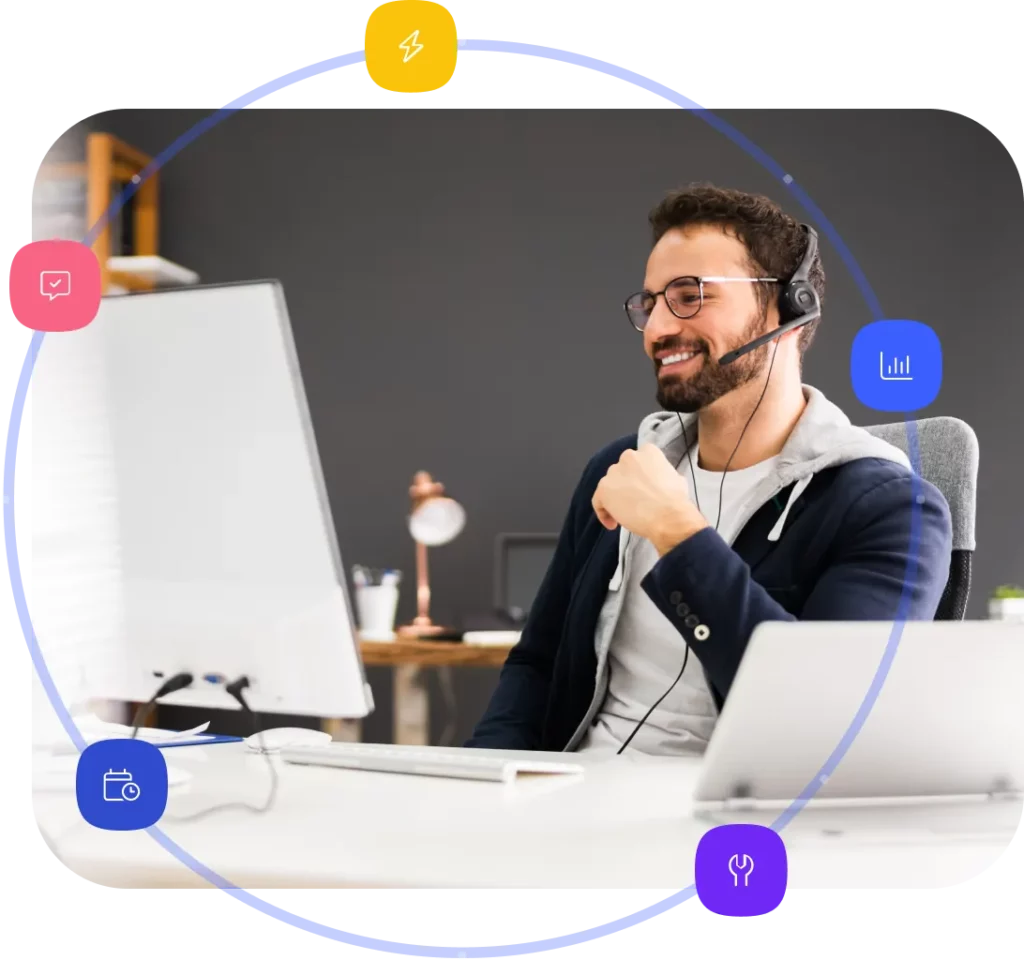 Seating Allocation Solution
The Seating Allocation Solution is an office space management software designed for facility managers, HR managers, office administrators, and CFOs. It provides a real-time view of your workspace and allows you to customise office arrangements on the go. Key features include custom seating plans to maximise employee productivity, a user-friendly application for instant desk and meeting room bookings in hybrid work models, and real-time updates for seating and scheduling information.
Valuekeep
Valuekeep is a CMMS solution that helps companies efficiently manage and organise their assets and maintenance operations. It offers an innovative and intelligent product with competitive pricing and a strong focus on security. Valuekeep aims to increase asset uptime and longevity while optimising maintenance management, improving asset tracking, and increasing Return on Assets (ROA).
POC System
POC System offers an interactive Software-as-a-Service visual space management software for companies that own and manage office buildings or commercial assets. With this solution, you can efficiently plan and optimise your floor space allocation. Key features include cloud-based interactive digital archive and simulations, independent editing, splitting, merging, and measuring of spaces, and the ability to share units online with colleagues and tenants.
Facile
Facile is a user-friendly app that simplifies hybrid working by connecting teams and workspaces. It offers various features to enhance productivity and optimise workspaces, including the ability to reserve workstations and amenities, locate free meeting spaces, adjust workspace capacity, track occupancy across multiple floors/locations, manage hybrid teams, and organise activity-based cleaning.
eMaint CMMS
eMaint CMMS is a cloud-based software solution that helps optimise workflows, automate preventive maintenance tasks, ensure spare parts availability for upcoming work orders, generate regulatory compliance reports, and provide a comprehensive view of work order status and backlog on a single screen. It also offers a mobile app for added convenience.
MaintainX
MaintainX is a mobile-first workflow management platform designed for industrial and frontline workers. It offers a modern IoT-enabled cloud-based solution for maintenance, safety, and operations on equipment and facilities. With MaintainX, businesses can efficiently track reactive and preventive maintenance, conduct safety and quality inspections, and manage operating checklists.
DaySmart Recreation
DaySmart Recreation simplifies the daily operations of facility management for businesses. This all-in-one solution streamlines scheduling, registration, and community engagement, enabling facility owners and staff to run their business more efficiently at a lower operational cost.
Tribeloo
Tribeloo is a desk booking solution designed to make your hybrid workplace easier to manage. It offers a user-friendly interface and easy setup process. With Tribeloo, you can increase space utilisation, reduce office costs, and facilitate teamwork. Say goodbye to cluttered schedules and hello to a more productive workplace.
Wayleadr
Wayleadr is a software that simplifies parking management for facilities management professionals. It helps boost parking availability by up to 40%, eliminates manual parking management, digitises entry and exit processes, and reduces environmental impact. With Wayleadr, managing parking becomes painless and efficient.
Why you need a facility management software
Modern facilities are complex, and expectations regarding their management are high.
You can certainly argue that utilising a centralised software solution is not just 'nice to have'. Rather, it's essential.
1. Optimise communications
Suppose you're running a large hotel with hundreds of rooms. There are customers to please, and assets must be maintained to keep everyone happy.
Your team members need to be organised and equipped for their jobs, whether that be maintenance or cleaning.
That requires swift and efficient communication – traditional communication methods are slow. Then, how do you record their inputs and activities? And what about logging tasks, purchases (e.g. parts) and other important information?
Throw in the responsibility for managing high-tech assets like motion sensors, alarms and HVAC units, and it quickly becomes apparent that a pad and pen are not sufficient.
Use FM software to pull these functions into one streamlined, seamless platform. It benefits everyone, from managers to maintenance workers, cleaners and other staff responsible for the upkeep of the facility.
2. Improved transparency
When it comes to health, safety, compliance and regulation, transparency is essential.
Facility managers often need to create and maintain transparent, auditable trails for risk management, accident reporting, etc.
By centralising data into FM software, managers can stay on top of critical responsibilities. This also extends to complying with SLAs and providing services to clients and customers with the services they've paid for.
The transparency of FM software enhances trust and ensures data is saved securely whenever required.
3. Reduce downtime
When it comes to maintenance, FM software makes it significantly easier to transition from slower reactive maintenance to preventive or predictive maintenance.
Using a preventive maintenance software can reduce downtime by 5 to 15% and cut costs by 18 to 25%. 
Additionally, by managing work orders and maintenance schedules in a singular tool, managers can work to enhance uptime and track costs.
The cost-saving benefits of FM software for maintenance haven't gone unnoticed by governments. For example, in the UK, the government encourages the use of FM software for maintenance, citing that delaying maintenance for 2 to 4 years can increase costs by 1.5 to 2.0 times.
Facility management software and preventive maintenance in the UK
Preventive maintenance is a critical component of any maintenance program. Studies repeatedly highlight the cost advantages of shifting maintenance schedules from reactive to proactive.
Reactive maintenance is more costly in the long run, as it often relies on the total failure of assets prior to replacement or repair.
Regularly servicing equipment and addressing potential issues before they develop ensures your equipment operates at its full potential.
However, this requires accurate and well-organised data. Facility management software supports that data, helping you track preventive maintenance schedules and ensure that all necessary maintenance is performed on time.
Any costs associated with contractors or parts can be logged in the software.
Facility management software and CMMS
Computerised maintenance management systems (CMMS) is a type of software used to manage maintenance operations.
FMS and CMMS are allied, as both are designed to help organisations manage their maintenance activities more effectively.
But, they're not synonymous. FMS is more holistic, relating to the entire facility and the teams responsible for operations and upkeep. Conversely, CMMS is laser-focused on maintenance operations.
FMS can work hand-in-hand with CMMS software, providing additional functionality.
For example, FMS can manage space utilisation and energy usage, while CMMS software can manage preventive maintenance schedules and work orders.
Integrated all-in-one platforms combine the two, offering flexible solutions that handle both maintenance and other aspects of facility management.
Facility management software and CAFM
Computer-aided facility management (CAFM) is much more similar to FMS than CMMS. Like FMS, CAFM software aims to combine multiple management processes into the same software.
In essence, CAFM and FMS aid decision-making and productivity, whereas CMMS is more of a system of records.
Facility management software and IMMPs
And finally, we have the Intelligent Maintenance Management Platform (IMMP).
An IMMP combines the very best of all the above, providing a singular ecosystem for maintenance, productivity, reporting, insight and action.
Connectivity for IoT sensors and devices enhances predictive maintenance and asset tracking, and advanced AI-driven insights allow managers to leverage their data for maximum impact. It's not just about the tech either, but people.
Infraspeak's IMMP emphasises the need for collaboration between technology and teams, so software, hardware and people can work in harmony.
Our IMMP is designed for Maintenance 5.0 and beyond, a future where facility management is optimised by AI, IoT and other new-gen technologies.
To learn more about Infraspeak and what differentiates it from the competition, schedule a free demo with one of our specialists.