What is a CMMS?
Starting point: CMMS means Computerised Maintenance Management System/Software.
The key to understanding what a CMMS is lies in these words. A CMMS is nothing more than a type of software to systematise and centralise all the information about maintenance management. And since the goal is precisely to concentrate efforts and optimise time, we start by shortening the name to the acronym "CMMS".
These systems are often referred to by other names, such as:
Preventive maintenance software;
Work order management software;
…among others.
More recently, IMMP (Intelligent Maintenance Management Platforms) have come to replace CMMS software for many — they represent a significant evolution in maintenance management technology, moving companies from systems of records to effective systems of intelligence, that not only store and centralise information, but also provide teams with alerts, task automations, and intelligent suggestions.
But let's not get ahead of ourselves.
We'll discuss IMMPs with a bit more detail later on, but, for now, let's focus on the good ol' CMMS itself.
Does your business need a CMMS?
Before we explore the advantages of a CMMS and how it works, the question is whether your company really needs a CMMS. Although each case is different, you most likely need maintenance management software if you meet at least one of these criteria:
✓ you operate with a variety of industrial equipment
✓ your equipment often has expensive breakdowns
✓ you need to manage infrastructures and large facilities (e.g. hotels, shopping centres, sports arenas, electric power stations)
✓ you have an obligation to comply with several hygiene, safety and quality criteria, including HACCP analyses and ISO standards
✓ you're a maintenance service provider, and you need to manage several assets and clients
✓ you're still dependent on manual processes (or systems such as Excel) to create checklists and taks plans
✓ your decision-making is based on intuition rather than real data
✓ you have a disorganised and inefficient maintenance team
✓ you have trouble communicating with the maintenance staff 
Do any (or several!) of the items above apply to you? Then you need to keep reading this article. Let's see how this kind of software works and even how you can save money with a CMMS, even if you run a relatively small business.
How does a CMMS work?
The basic concept to understand how a CMMS works is the work order, or maintenance request. Everything revolves around work orders, which can be, by a certain technician, followed in real-time, processed, marked as resolved, archived, and used in the production of detailed reports on its operation.
For example, if your preventive maintenance plan includes several tasks in HVAC equipment, you only need to create a maintenance request to, say, "change a filter", schedule it for a certain date and time, and assign it to a technician. When the technician has finished the task, he marks it as "closed" and has one less worry crossed out of his (and your) list.
This is the main purpose of any maintenance management software and this type of process applies to both reactive maintenance (or corrective maintenance) tasks and preventive maintenance plans. The remaining functions, which vary between different CMMS, aim to speed up the management of maintenance requests, besides simplifying communication, and increasing control over the whole maintenance operation.
Here are a few examples:
asset management, so you can access all the information about each piece of equipment at any time;
scheduling tasks and preventive maintenance features, so you can schedule routine inspections;
failure reporting and reactive maintenance features to solve any unexpected equipment failures;
stock management, to control inventory and avoid stock disruption;
creation of maintenance requests from any employee or customer, which makes failure detection faster;

conducting audits

on your equipment and infrastructures;
monitoring energy consumption, such as water, gas, and light from your buildings;
mobile CMMS app for maintenance technicians and other staff;
performance reports, because there is always room for improvement!
What are the advantages of a CMMS?
Almost all businesses agree on the advantages of a CMMS, namely the increase in team productivity, better cost control, and inventory optimisation.
👉 Centralisation of information
If looking for information about the last repair you made to your air conditioning is pretty much like looking for a needle in a haystack, then you definitely need a CMMS.
The CMMS puts an end to lost paper and endless Excel sheets. From the moment you insert configure the software with all your information, it is very simple to find work plans, maintenance request logs, instruction manuals, and other types of files.
👉 Non Stone-Age Communication
With a CMMS, each team member receives a notification each time they are assigned a task. On the other hand, it eases the reporting of failures to the technical team, which also decreases the reaction time (and, in turn, important metrics like MTTR).
👉 Increased productivity
According to a study published in July 2019, 86.7% of companies that use a CMMS notice an increase in employee productivity. On the one hand, maintenance managers take less time to assign tasks to their technicians, and on the other, technicians can find all the information they need quickly. Goodbye, backlogs!
👉 Reduced downtime
Whenever you leave a task in your backlog and drift from your maintenance plan, the probability of having an equipment breakdown increases. Another of the main advantages of a CMMS – reported by 82.8% of companies in the same study – is to reduce downtime, as the software makes it easier to schedule, control, and review all the preventive maintenance plans.
More preventive maintenance means less downtime and also less reactive maintenance, which equals cost reduction (unless there is excessive preventive maintenance):
👉 Cost control
Remember when we asked you if you make your decisions based on intuition? With the data collected by CMMS and the automatic reports, you'll start to make more informed decisions and predict how much you will spend on maintenance, with a greater degree of confidence. Thanks to this, 89% of companies report an improvement in cost control when using a CMMS.
Furthermore, among the 64 companies in the study that reported "lack of information in decision-making", only 5 continued to have the same complaint.
👉 Increased asset lifetime
About 88.2% of companies mention that they can extend the lifespan of their assets with a CMMS. There are several possible justifications: the increase in productivity (which allows them to comply with their preventive maintenance plan more rigorously), the decrease in breakdowns, and, of course, detecting problems earlier with the quick failure reporting features.
👉 Stock management
Another major advantage of using a CMMS is better stock control. This translates into less overstocking and less inventory shrinkage, which causes 88% of companies to reduce stock-related costs.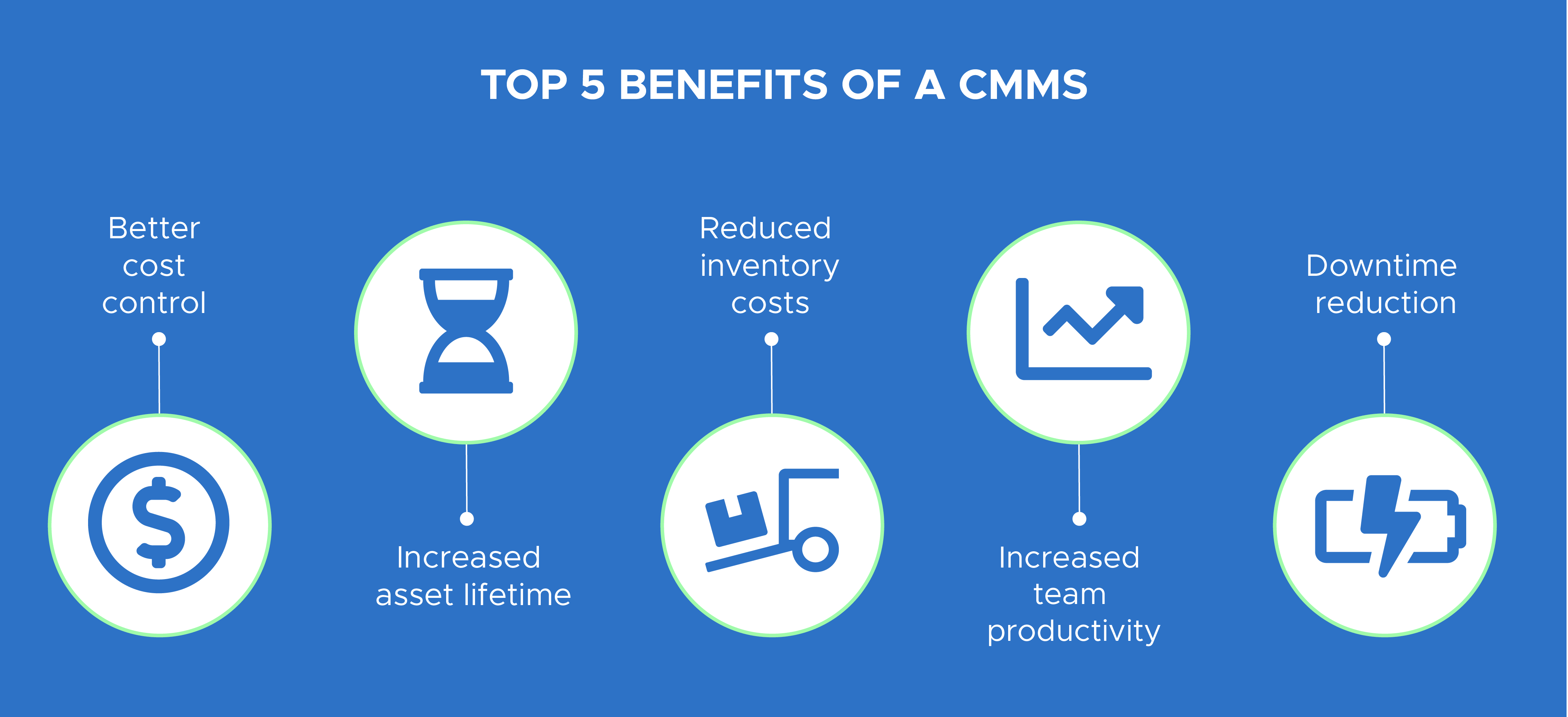 The main drawback: it's just a system of records
Don't get us wrong: when compared to the lack of a maintenance management software solution, a CMMS is a godsend. However, when put up against the available and state-of-the-art technology, a CMMS falls a bit shorter.
Maintenance is an increasingly challenging world. Buildings are more and more complex, customers and building users have higher expectations and laws and regulations are increasingly tighter when it comes to quality, safety, sustainability and more.
Much like when you compare the buildings and technical operations of the 80s with those of the 2000s, you can't expect modern infrastructures and operations to be well served with 2000s technology. And this is exactly where Intelligent Maintenance Management Platforms (IMMP) come in.
📝 You may also like: Free CMMS, is it a good idea?
What is an IMMP (Intelligent Maintenance Management Platform)?
Like the name itself suggests, these platforms combine maintenance management with artificial intelligence (AI) and the internet of things (IoT) to collect equipment data and turn it into valuable insights. As to why they're called platforms rather than maintenance software, it's because they can integrate other tools and even hardware, making it a vibrant, live maintenance system (a system of intelligence) instead of a static bubble (a system of records).
Do you manage infrastructures and large facilities? Are you a maintenance service provider with several clients and assets to manage? Do you have an obligation to comply with SLAs, as well as quality, safety and hygiene standards? If your answer to any of these is "yes", then you should definitely look into IMMPs.
📌 Learn more about the differences between IMMP and CMMS
How to choose the best maintenance management software?
Why adopt a maintenance management software if you're going to keep living in the past? With cloud storage, all information becomes available at any time – at home, in the office, or working remotely from the Philippines.
Maintenance technicians are never idle, so it's important to choose a CMMS (or IMMP) that they can use "on the go" and jump from one task to the next. Here at Infraspeak, of course, we are also big fans of NFC tags for all kinds of purposes.
Absolutely non-negotiable. You need an intuitive and user-friendly software for your team, with features that correspond exactly to what your company needs. Otherwise, you won't have a membership and many of the advantages of the software fall apart. We suggest you always ask your team for input before deciding on a solution.
Your goals of today may not be your goals of tomorrow. Your company grows, the team expands, the market and the demands of your customers change. Look for a flexible and scalable solution to anticipate the needs of the future. At Infraspeak, you can choose the apps and addons that best suit your company and create your own dashboard.
This is a golden rule for any software: if it hasn't been updated in months, it's probably not a good idea. It is important to know that the team behind the CMMS or IMMP is committed to improving it and taking your suggestions into consideration. Also, take advantage and check the integrations it has with other software (e.g. CRMs, fleet management solutions, or hotel management systems).
What are the challenges in using a CMMS or an IMMP?
Even with all the advantages we've discussed so far, it is normal that you still have some concerns regarding the implementation and use of a CMMS or an IMMP. In this section, we anticipate the three main challenges you may face and the reasons why they are, in fact, very easy to overcome.
👉 Implementation
As with any change, there is always doubt and an adaptation phase. The trick is to choose the maintenance management software / platform that best fits your company – it must address your needs and integrate with the other software you are using.
The more flexible it is, the easier it will be to onboard. Following Infraspeak's plan, and with the help of a Customer Success team always ready to help, you can have your IMMP up and running in just 2 weeks.
👉 Adaptation
All the advantages of a CMMS or IMMP depend on its correct use. Therefore, all employees who will use it need to participate in the onboarding phase. But rest assured: the most sophisticated platforms have mobile versions for smartphones and tablets, which are not unknown to anyone.
👉 Data Security
It's true that CMMS and IMMPs store sensitive information. Indeed, hacking is not a conspiracy theory.
But it is also true that most SaaS (short for Software as a Service) use information hubs with multiple layers of protection – not a company server, which is a much more vulnerable target. In fact, successful attacks on SaaS are extremely rare.
Do you have any more questions or do you want to know more about our Intelligent Maintenance Management Platform?
Get in touch with us! We're here to help.
Inefficient maintenance processes?