CMMS stands for Computerised Maintenance Management System. It is designed to assist organisations in managing and maintaining their assets and equipment effectively, helping streamline maintenance operations by providing a centralised platform for tracking, scheduling, and managing maintenance tasks, work orders, and inventory.
In this article, you can learn all about CMMS: what it is, how it works, pros & cons, how to choose the best CMMS and, of course, why you should opt for a solution that goes beyond a traditional CMMS — an Intelligent Maintenance Management Platform.
For now, let's get to the key features of this solution and to the top 10 CMMS software currently in the market.
Key features of a CMMS
Work Order Management: Creating, assigning, and tracking work orders for maintenance tasks.
Preventive Maintenance: Scheduling and tracking regular maintenance activities to prevent equipment failures.
Asset Management: Managing and tracking information about assets, such as equipment details, maintenance history, and warranty information.
Inventory Management: Tracking and managing spare parts and inventory levels to ensure availability for maintenance tasks.
Maintenance History Tracking: Recording and storing maintenance activities and repairs performed on assets.
Reporting and Analytics: Generating reports and analysing data to gain insights into maintenance performance, costs, and equipment reliability.
Mobile Access: Allowing technicians to access and update CMMS data using mobile devices, enabling real-time communication and updates.
It's not all good news — a CMMS is just a system of records
A CMMS is, without a doubt, highly valuable in contrast to the absence of a maintenance management software solution. However, when compared to the advancements in available state-of-the-art technology, a CMMS may not measure up as effectively.
The realm of maintenance management is becoming increasingly demanding. Buildings are growing in complexity, and both customers and occupants have higher expectations. Moreover, laws and regulations are progressively stricter, particularly regarding quality, safety, and sustainability.
Yes, you can record and store maintenance activities performed, and you can generate reports to analyse data — however, you cannot leverage that data to get actionable insights, straight-to-the-point automations, dozens of possible integrations or real-time KPI tracking.
It is, then, crucial to recognise the limitations of relying solely on 2000s technology. This is precisely where Intelligent Maintenance Management Platforms step in to address these challenges — and to transform your data into performance opportunities.
Top 10 best CMMS software
Infraspeak
MaintainX
EZO CMMS
eMaint CMMS
Maintainly
EZOfficeInventory
Smartsheet
Asset Panda
UpKeep
Odoo
The reviews below are sourced from Capterra.com.
Infraspeak
"What are these guys doing in this list, if they're not even a CMMS?", you ask. Well, we knew you'd probably be looking for a CMMS, since this is the typical, go-to solution, so we kind of sneaked in to tell you about what really is going to transform your maintenance operations — because a CMMS definitely won't. Infraspeak is an intelligent and flexible solution that helps maintenance managers plan and optimise effective maintenance, organise assets and inventory and ensure compliance — all whilst providing intelligent insights.
Our Intelligent Maintenance Management Platform allows you to:
reduce your MTTR by up to 83%
lower unpredictable costs by up to 3.2x
improve your SLA completion rate by up to 91%
save time and reduce errors by automating 60%+ of all your admin work
generate preventive maintenance plans considering the actual usage of your assets
schedule recurring tasks and allocate specific sets of tasks to planned jobs, automating task assignments
gain access to real-time KPI reporting for effective monitoring of your maintenance operations
connect to a world of 100+ integrations, including IoT sensors and Building Management Systems (BMS), to streamline data collection and analysis
automatically detect spikes and fluctuations in utility spending, resulting in cost reduction, optimised energy consumption, and enhanced sustainability of your operations
centralise your order and supplier history, enabling automatic updates of inventories and optimising billing and budgeting processes
request, organise, and compare quotes from multiple suppliers to make informed decisions and ensure competitive pricing
enhance decision-making capabilities through intelligent insights and analytics, empowering you to make well-informed choices for your maintenance operations
An Intelligent Maintenance Management Platform offers superior adaptability and responsiveness to evolving operational requirements when compared to outdated CMMS systems. Additionally, with an IMMP, you have the flexibility to create customised solutions tailored to your specific needs, avoiding the limitations of a cumbersome interface and excessive features. This way, you can effectively reduce costs and enhance facility performance, earning appreciation from your clients and customers.
What users love about Infraspeak
"I've worked in estates for 15 years across, probably eight different roles, all in higher management. And I've used lots of different CAFM systems. Some are a nightmare. Some just aren't quite right for our type of industry… many CMMS systems are just like, "This is how it is". I like the way that you can tailor Infraspeak to fit your business' niche requirements." — Matt Goodyear, Head of Estates at Holmeleigh Care
A 15-minute chat is all it takes.
Learn how Infraspeak can help with intelligent maintenance management.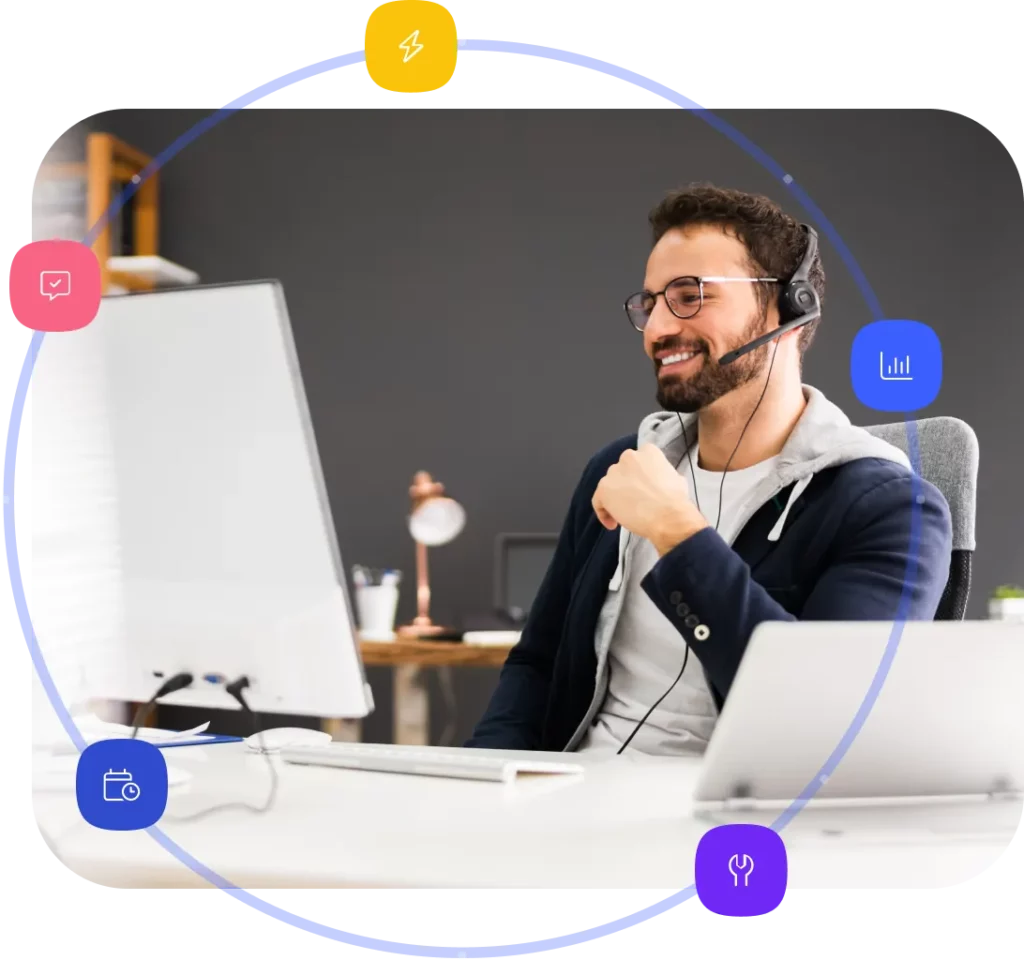 MaintainX
MaintainX is a mobile-first CMMS and work order software that prioritises digitising procedures. It empowers frontline teams in factories to understand their tasks and how to execute them efficiently. Its capabilities include safety procedures, environmental checklists, tooling & gauge reporting and maintenance procedures.
EZO CMMS
EZO CMMS is a purpose-built maintenance management solution that goes beyond work order tracking, providing centralised visibility and control over maintenance operations. It comes with features designed to assist maintenance managers in proactively managing preventive maintenance schedules, maximising equipment uptime, minimising unscheduled repairs, and controlling overhead costs.
eMaint CMMS
eMaint, a global cloud-based CMMS software solution, optimises workflows, automates preventive maintenance tasks, ensures spare parts availability, and enables quick generation of regulatory compliance reports. The mobile app enhances accessibility.
Maintainly
Maintainly is a CMMS that offers user-friendly work orders, asset tracking, inventory management, reporting, API access, and mobile apps with an intuitive interface.
📝 You may also like: Free CMMS, is it a good idea?
EZOfficeInventory
EZOfficeInventory is a maintenance management solution that goes beyond work order tracking. It provides centralised visibility and control over all maintenance operations, assisting maintenance managers in tracking preventive maintenance schedules, ensuring maximum equipment uptime, reducing unscheduled repairs, and controlling overhead costs.
Smartsheet
Smartsheet is an online work execution platform that empowers organisations of all sizes to plan, manage, automate, and report on work.
Asset Panda
Asset Panda is customisable cloud-based maintenance management platform with iOS and Android apps. It offers comprehensive tracking and reporting capabilities for maintenance operations.
UpKeep
UpKeep is an Asset Operations Management solution that combines CMMS, EAM, and APM for maintenance, reliability, and operations teams.
Odoo
Odoo is an open-source suite of integrated apps that includes CRM, PoS, Website, eCommerce, Sales, Accounting, Warehouse, HR, Marketing, and more.
💡 You may also like: 10 best maintenance management software
Is a CMMS software necessary for your business?
If you meet any of the following criteria, it is highly likely that your business could benefit from maintenance management software:
✓ Your operations involve a diverse range of industrial equipment.
✓ Your equipment frequently experiences costly breakdowns.
✓ You need to manage large infrastructures and facilities, such as hotels, shopping centers, sports arenas, or power stations.
✓ Your compliance obligations encompass various hygiene, safety, and quality standards, including HACCP analyses and ISO certifications.
✓ You are a maintenance service provider and need to manage multiple assets and clients.
✓ Your current processes heavily rely on manual methods or systems like Excel for creating checklists and task plans.
✓ Decision-making within your organisation relies more on intuition than concrete data.
✓ Your maintenance team lacks organisation and efficiency.
✓ Communication with your maintenance staff is problematic.
Almost all businesses agree on the advantages of a CMMS, namely the increase in team productivity, better cost control, and inventory optimisation.
Lack of control costing you time and money?
Infraspeak is the answer.