Enterprise Asset Management (EAM) software is now integral to maximising asset efficiency, cost savings, and reliability. But, without establishing EAM best practices, assets are rarely used to their full potential.
The truth is, EAM software is often under-utilised. Data is not as captured as easily, which can undermine preventive and predictive maintenance. Ultimately, this means assets underperforming and a dent in your bottom line.
Below, we'll explore some of the best EAM practices you can implement in your organisation to get the most out of your assets. Following these will help all personnel understand their role in asset management and allow you to get the most out of your EAM software.
Best practices for EAM: 9 essential tips
Make communication easy
A lot of different people will use and interact with assets over the course of their lifecycles. From capital allocation, installation and daily use to maintenance, repair, and eventual disposal — assets involve personnel across a bunch of departments.
Facilitating smooth communication between these departments is one of the most important enterprise asset management best practices. This ensures repairs are not delayed by communication delays, as decisions can be made quickly.
Modern EAM solutions, such as Infraspeak, use mobile alerts to ensure parties can communicate instantly and all have access to the same information in real time via the cloud.
Technicians, for example, can use EAM software to generate reports on the performance and condition of an asset. This can then be sent to managers, who can then make informed asset viability and cost-effectiveness decisions.
Standardise guidelines
Creating standardised guidelines for EAM makes sure everyone knows their roles and responsibilities.
Ideally, you should write guidelines in clear, plain language and make them accessible to all staff, contractors, and third parties if necessary. This way, anyone interacting with EAM software and assets will understand what's required of them and how they can play their part in EAM.
Your guideline documentation should include rules and advice regarding the following:
Standard operating procedures for completing EAM tasks (e.g. lockout tagout)
Responsibilities of specific roles (managers, technicians, staff, etc.)
Tracking and updating MRO inventory
Supplier and vendor negotiation guidelines
Onboarding personnel to EAM best practices
Capture as much data as possible
EAM solutions act as a centralised database of asset information with the ability to monitor data in real-time. This involves utilising sensors, IoT devices, and live data feeds to gather as much usable asset information as possible.
Technicians and staff should also understand how to use EAM software to update asset data to ensure accurate records.
Data should include:
Procurement and installation dates
Make, model, and location
Repair and maintenance information
Temperatures
Performance metrics
These measures will help you make informed decisions when necessary. The more data, the better, as AI EAM solutions can now analyse this information and recommend preventive actions.
This allows asset professionals to precisely monitor the efficiency and cost-effectivity of assets.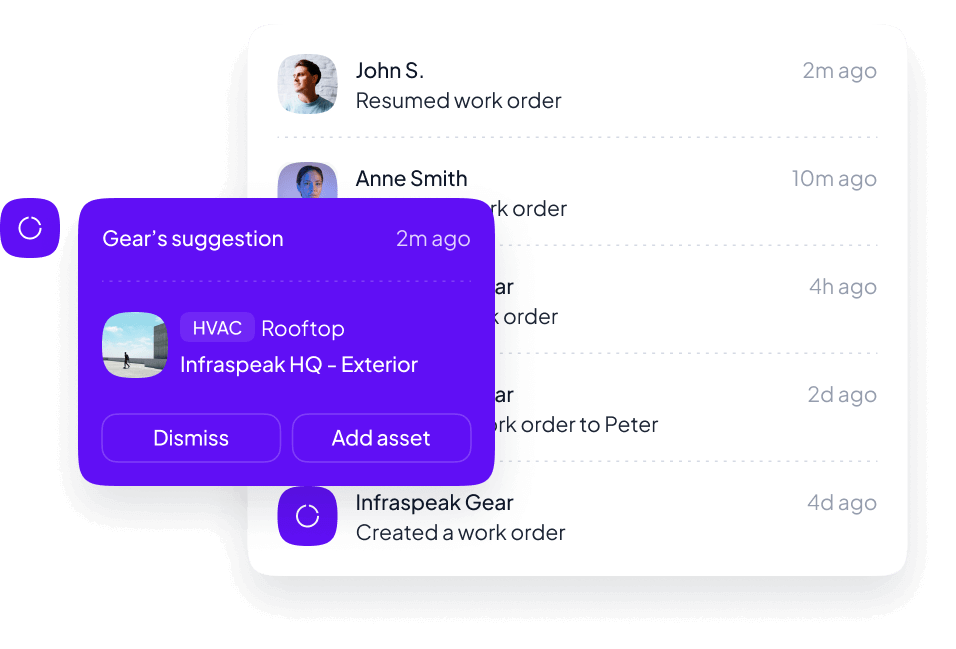 Track assets over their whole lifecycle
Despite the overlap with Computerised Maintenance Management Software, EAM covers more than just the operating phase of an asset.
Asset managing professionals use EAM software to track and monitor assets at every stage — from procurement to disposal. This way, you not only know when a machine needs repair, but you can also see when a machine has become inefficient.
Fed enough data, EAM solutions allow you to spot discrepancies that can prevent major downtime. And, with work order management built in, EAM software can generate preventive actions automatically, making the life of asset managers a lot easier.
Utilise preventive and predictive maintenance
Unscheduled downtime can cause you and your organisation a lot of headaches. Enterprise asset management best practices should therefore include a way to stop small problems from becoming big ones.
As well as your existing asset maintenance strategy, this should involve preventive maintenance and also predictive maintenance. These features are included in modern enterprise asset management software. Then, this can automatically schedule maintenance when assets are due and use performance benchmarks and even AI to predict repairs for you.
Using a combination of preventive and predictive maintenance with EAM-savvy technicians, you can then keep assets running at their best now and in the future.
Use NFC tags
To keep track of assets more efficiently, use Near Field Communication (NFC) tags. These allow technicians and other personnel to quickly access information about an asset using their mobile.
Technicians can use NFC tags to quickly pull up information such as a manual or previous maintenance record. Managers can then register when and where technicians are on-site for their records.
This also dramatically improves data capture with a seamless connection to the asset in EAM software. Infraspeak is innovating NFC technology in the maintenance space with our strong, weatherproof tags capable of lasting nearly 30 years.
Store documentation on the cloud
Use EAM software to store documentation securely online.
This way, everyone within an organisation knows where they can find documentation regarding an asset. For technicians, this could be a manual for a machine, allowing them to complete a repair sooner. Managers, too, can find compliance documentation to stay on the right side of the law and SLAs.
You can therefore use enterprise asset management software as a repository for all your asset and compliance documentation.
Set goals and monitor KPIs
Asset managers should work with other departments to establish goals. This could be to reduce repair costs by 10%, improve uptime by 10%, or even eliminate the need for enquiring phone calls, freeing up managerial time.
Whatever your goals are, achieve them by establishing your key performance indicators (KPI) and benchmark metrics within EAM software. Consider KPIs such as Mean Time to Repair (MTTR), Mean Time Between Failure (MTBF), and Overall Equipment Effectiveness (OEE) or set your own using EAM software.
Enterprise asset management software allows you to track and monitor these KPIs in real time and catch anything amiss before it upsets your goals.
Scale and adapt accordingly
EAM software should be scalable and agile enough to meet the growing demands of your organisation. This means your EAM platform should have a comprehensive suite of features and include the ability to expand data storage and access.
Be sure to use EAM software that allows you to switch features on and off as you need them. This can streamline the EAM process for users and allow integrations to other platforms for expanded capability.
Putting it all together…
EAM software is only as useful as the data that it is fed. Therefore, organisations should implement best practices to make sure everyone is working towards the same goals and ensure assets are utilised to their full potential.
Infraspeak: the best tool for enterprise asset management
Complex maintenance operations have thousands of assets and not enough people to manage them. Infraspeak's scalable, comprehensive solution simplifies Enterprise Asset Management through task automation and AI-enhanced maintenance planning.
Our Intelligent Maintenance Management Platform brings unprecedented efficiency to FM and maintenance operations, reduces human intervention by adding intelligence and simplifies compliance with legal regulations.
Get full visibility over your entire business, increase asset lifetime and seamlessly integrate with native apps, hundreds of integrations and IoT devices to build a custom solution that fits your operations — being a platform comes with its perks!
Finally, forget the days when procurement gave you nightmares. Infraspeak facilitates methodical and effective procurement through the Infraspeak Network™. The Infraspeak Network™ is a shared workspace that brings collaboration to procurement and work-execution between facility managers and third-party providers. Manage quote requests, proposals and purchase of stock — all without leaving Infrapeak's platform.
To see the future of EAM for yourself, book a demo now.
Lack of control costing you time and money?
Infraspeak is the answer.