Look back to move forward — here's why:
In just one year, Maintenance 5.0 has gone from an unknown concept to a household term for facility managers and service providers globally. As we look ahead, it's crucial to reflect on our industry's past to understand the changes occurring today and put them in context.
Florence Nightingale's 1859 work, 'Notes on Nursing,' is one of the earliest documented studies on Facilities Management. She found that improving air circulation, cleaning schedules, and rubbish disposal processes reduced hospital death rates by almost a third.
Although contemporary facility management goals and objectives are similar to those of the past; intelligent, automated technology has transformed the industry beyond recognition. Today's facilities are the culmination of over 164 years of progress. As we move forward, it's essential to acknowledge the strides we've made and continue to make.
What does intelligence mean, and how does it apply to FM?
Let's start by clearly stating what we're not dealing with here. Intelligence in FM isn't Artificial Intelligence (no robots, no brains in jars!). When we talk about intelligence in FM, we're talking about intelligent uses of technology. How can we pair technological solutions and innovations with human excellence to achieve our business goals more effectively and make our lives easier?

How can we cut waste, increase compliance and improve customer trust while reducing our workload? Any solution that fits the above criteria should be considered intelligent, at least in an FM context. Companies, like Infraspeak, have found ways to deep dive into data sets and activity registered on CAFM systems (Computer-Aided Facility Management) and IMMPs (Intelligent Maintenance Management Platforms) and churn out useful results that can add new dimensions to your operations. For the most part, this includes:
Automation of task delegation and completion
Intelligent data-driven suggestions and insights
Real-time warnings when things go wrong

What's fascinating about this intelligent technology is that it has an almost unlimited reach in our industry. So much of our work is based on raw numbers or information flows that can be divided into logical gates. Barely lifting a finger, you can now:
Speed up the allocation of cost centres, and work priority for created work orders
Streamline the delegation of work amongst team members based on specialities and availability
Create and automatically send client reports with key asset data and updates.
This is just scratching the surface! As you'll see in the next section, given that all these solutions are based on information sets already in your operation. For that reason, the options are virtually endless. Now, with all that in mind, let's introduce:
Infraspeak Gear™
Our intelligent processing core does exactly what we've just outlined:
Automate recurring processes and tasks, saving up to 8 hours a week
Provide data-backed intelligent suggestions and insights to improve decision-making
Flag up any issues in your work, for example missing data that might impact compliance
Automate this, Automate that
Infraspeak Gear™ can currently perform millions of automations. Each one replaces a repetitive task that would otherwise have to be done manually and saves you valuable time in your day.
3 ingredients, unlimited combinations
Here are the 3 parts of automation because having that extra understanding can help you grasp the infinite potential of intelligent automation in your operations. Every Gear automation is composed of different combinations of the following:
Triggers: A trigger is the starting point of the automation you're creating – for example:

"When a work order is created… then X"
Conditions: A condition is a thing that influences what will eventually happen. For example:

"When a work order is created with the asset category X in building Y, then…"
NOTE: You can add many conditions, or choose to skip them altogether if you want the automation to run in all contexts.
Outcomes: What do you want to happen as a result of your automation?

"When a work order is created with the asset category X in building Y, then set Priority as urgent!"

And it's as simple as that! So that's Gear automation… not bad. What else can it do?
Speedy Suggestions
Gear studies your operations and suggests options for various types of information based on what it thinks will be most useful to you.
For example, when creating a preventive maintenance plan, Gear will suggest the right task based on the asset type (Gear may suggest that you "change filter" if your asset is an "AC unit").

The results are incredible, with some clients saving over a week a month in lost time!

When a user fills in a field on our platform, 75% of the time they'll choose an option suggested by Gear. In other words, 3/4 of suggestions are the ones they're after… not bad, right?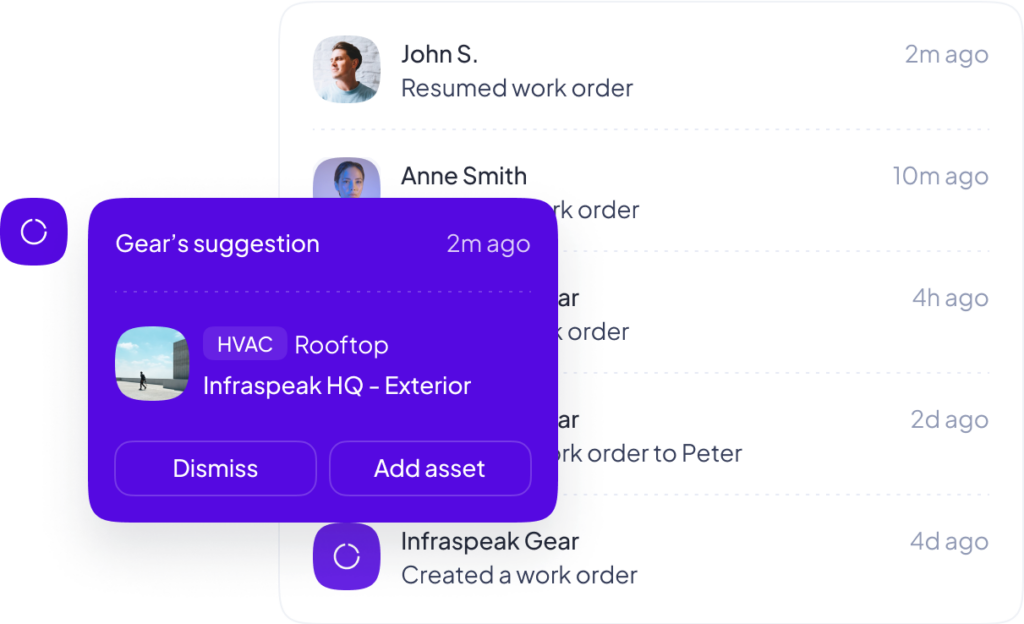 Timely Alerts
As well as providing Speedy Suggestions that help speed up execution, Gear also keeps an eye on your operations to ensure nothing goes wrong.

Imagine a scenario where you create an asset but forget to assign a maintenance plan to it. Gear can go through all your assets and flag any equipment missing this crucial plan, so you can make one there and then! This helps to guarantee compliance and avoid costly errors, and it has been a lifesaver for many!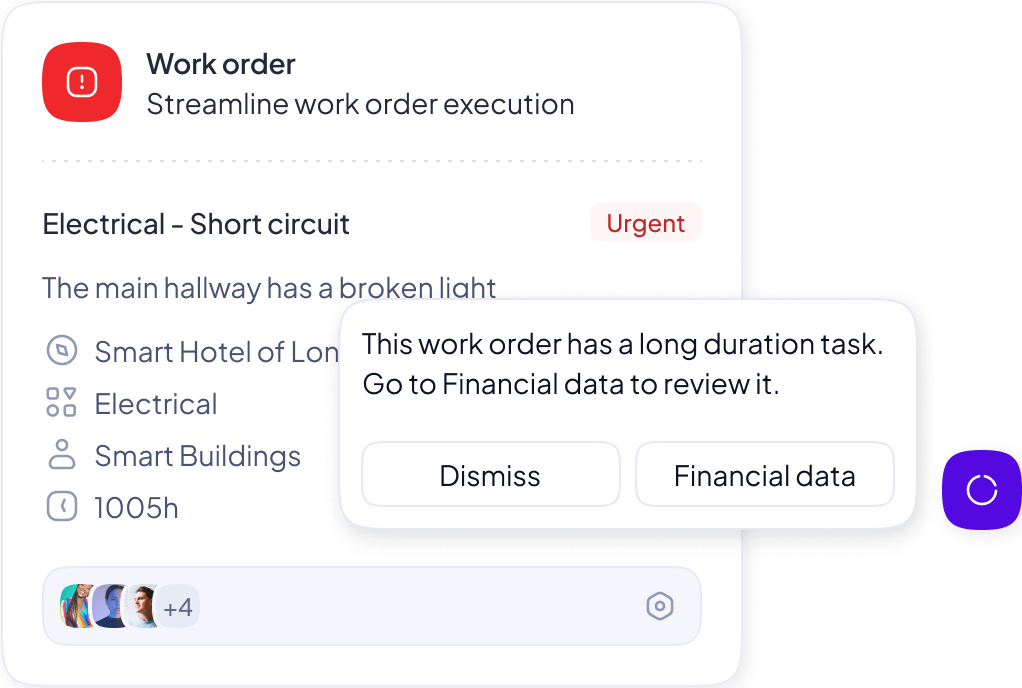 Incredible Insights
MTBF (Mean Time Between Failures). MTTR (Mean Time To Repair). Show this to someone out of the loop, and they'll think you've lost your marbles… but alas! Facility managers, service providers… we know how important these numbers are. They are critical indicators of asset availability, health, and efficiency and should ideally be applied to every asset in your business.

The problem is that these calculations can be complicated and there's no room for error.
To cut the stress out of this mandatory stage of asset management, we've trained Infraspeak Gear™ to make these calculations for you so that you can view this data on every asset! Bye-bye to late-night panics sat haunched at a never-ending spreadsheet… Gear will do all this for you.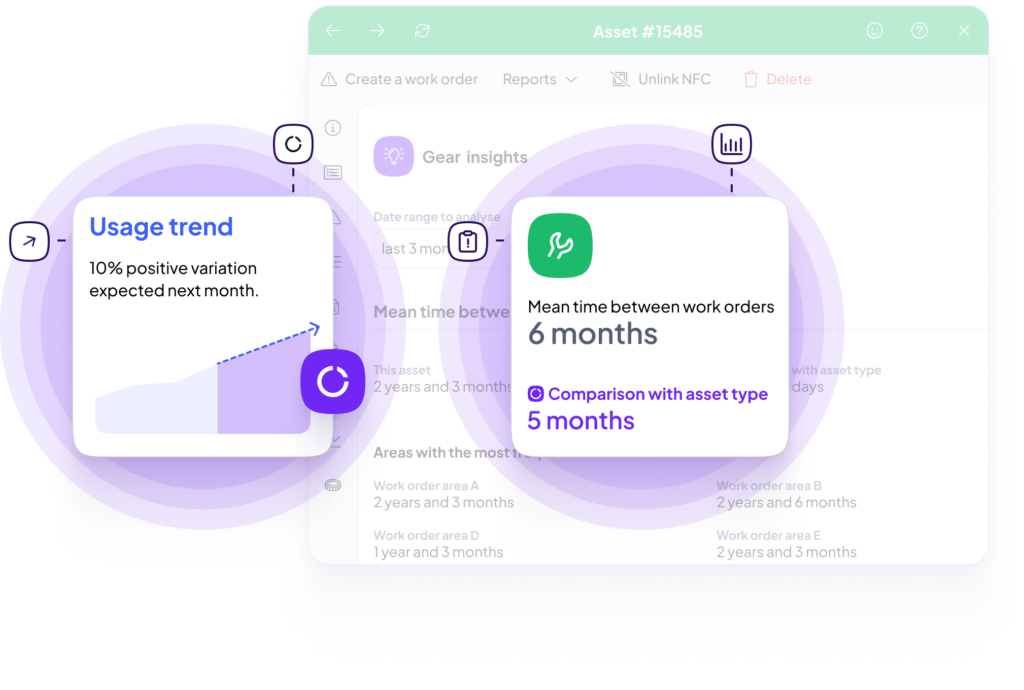 All this, and we're only 1% done with Gear.
So that's Gear. An intelligent processing core that automates work, suggests operation-enhancing options, gives you insights and warns you when things go wrong… no big deal.

As we grow and improve our platform, we'll undoubtedly have to come back and update the details because, quite frankly, we have HUGE plans for Infraspeak Gear™! You can count on us to keep you informed every step of the way.

The roadmap looks impressive. Keep your eyes open for:
The ability to automatically send client reports
New triggers, outcomes, and conditions will create even more automations
Deeper analysis of asset performance metrics across the rest of the platform
In the meantime, here's what some of our loving customers have to say:
"Infraspeak has made life a lot easier. It made everything under one umbrella, so we can manage, build reports, see where are we spending money, and where we can invest in one single platform."
— Jordan Tesfamichael, EL&N London
"Undoubtedly, the platform gives us time (which is money), organisation (having everything in one place and being able to access it whenever you want), and control over what is happening."
— Filipe Soares, Chief Engineer at Boeira Garden Hotel Curio Collection by Hilton
"We were using a different CAFM system that was supported by excel spreadsheets, delivering around 200 work orders a week. Now we're delivering 2000 — and that's just on reactive."
— Mike Robinson, Director of Business Development at Penguin FM
Thanks for reading, onwards and upwards!