The second edition of the IFM Summit London is just around the corner. After a debut in 2022 that exceeded all expectations, we are connecting FM and maintenance professionals once again. Together — in the only way that makes sense to us — we will discuss challenges, trends, and, above all, take a step forward in building a sector that needs to be more resilient, collaborative, and human-centric.
After the IFM Summit Lisbon… London!
In 2023, the IFM Tour had its first in-person event in Lisbon on February 28, with more than 350 attendees that met to shape the future of the industry. The Tour began with a global and 100% online event, where we kicked off this year's key theme: collaboration.
And what a great start it was! Over two hours and four discussion panels and two fireside chats, where some of the most relevant voices in the industry shared experiences and viewpoints about the increasingly necessary synergies between people, processes, and technology. Neil Pownall, Managing Director at Sunrise Facilities Management Ltd, Ian Perton, Director at CSS Facilities Services and Louise Erasmus, Procurement Lead at Rohloff Group, took part in a conversation that can you can watch here.
The IFM Global Summit was also marked by a very special novelty: the launch of Infraspeak Network™, the new Infraspeak product that promises to revolutionise the way facility managers connect with vendors, suppliers, and service providers. A truly integrated and shared network that puts collaboration at the centre of operations, streamlining procurement processes and the management of work orders and planned tasks.
Now, and because the relevance of these issues asks for new voices, we move on to the next destination. London marks the second of the 7 face-to-face events of the IFM Tour 2023, on March 23rd, at Queen Elizabeth Centre II by the Thames. Before we move on, here's an overview of the amazing edition we had last year:
The 2023 edition of IFM Summit London has already more than 100 attendees confirmed, including professionals from CBRE, Apex, Churchill Group, Penguin FM, Foster + Partners, and others.
This reference event in the FM and maintenance industry will include:
2 panel discussions and a fireside chat;
A Partner Fair where Infraspeak's technological partners will show off the best technological solutions for the sector;
The Infraspeak Awards;
Networking opportunities with hundreds of professionals — obviously!
What do we talk about when we talk about FM?
In the panels of the next IFM Summit London, we aim to respond to a context in which companies recognize, without any doubt, that they can no longer work in isolation. We will explore how teamwork, coordination, and, more importantly, collaboration in our industry help us achieve success — individually and collectively:
How can we make procurement processes more agile, integrated and transparent as we aim towards 360° visibility?
How can we build the playbook for a tech-powered FM operation, with working environments that enable IoT integrations and a more fluid operational management?
Why is communication with suppliers crucial to controlling operations and how can innovation help establish and cement these communication flows?
Exploring these topics will be speakers such as Edward Wick, Co-Founder & Managing Director at Penguin Facilities Management, Louisa Clarke, Managing Director of Operations at Churchill Group; Shumon Choudhury, Operations Manager at Cortland Europe; and Michael Bass, Head of Facilities Management at Foster + Partners.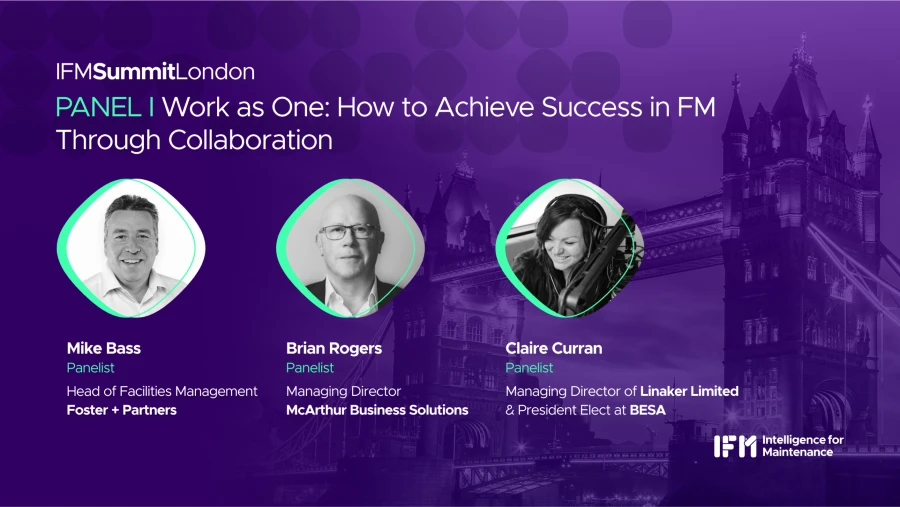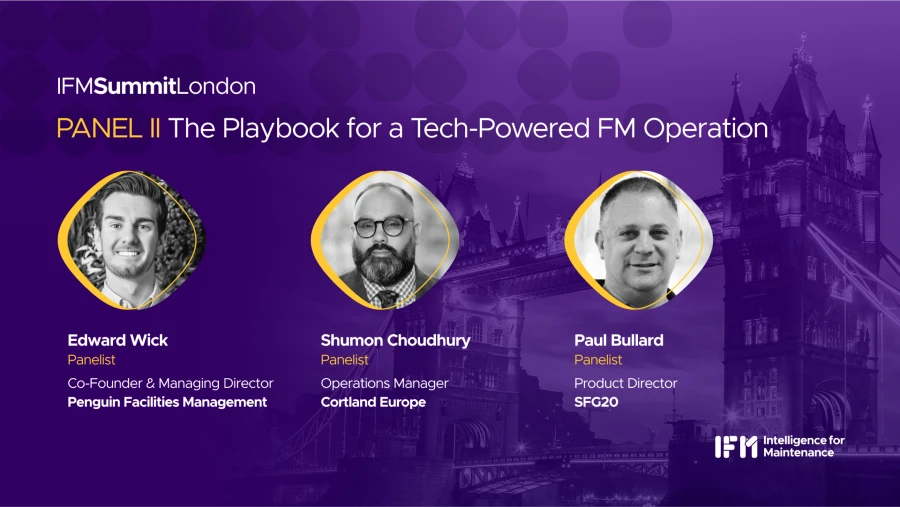 It will hopefully be a sunny (not snowy!) March afternoon full of sharing and knowledge.
Another unmissable moment in this IFM Summit London is the Partner Fair, with a space dedicated to the exhibition of products and solutions that will cover 4 different areas:
A global Matchmaking programme is also available and promises to provide business opportunities to all professionals. The aim of this initiative is to increase networking opportunities that happen at physical events and give participating companies in the IFM Tour events access to a global market.
It works very simply: each Summit participant exposes their interests in an initial form and matches are created based on those interests. From there, members can schedule a meeting to talk and eventually close a deal.
To participate, just:
Finally, we will, of course, be awarding prizes to operations that use our platform in an extraordinary way. In addition to the usual distinctions for the most efficient, integrated, and intelligent operation, as well as the Champion of the Year, we will be awarding the innovative vision and valuable contribution to the Infraspeak Network™ during the year 2022 in this edition.
On March 23, all roads lead to Queen Elizabeth Centre II. As you can see, there are plenty of reasons to join us and dozens of industry professionals. You can secure your spot here (registration is mandatory!) and check all the information about the IFM Summit London.
See you there?